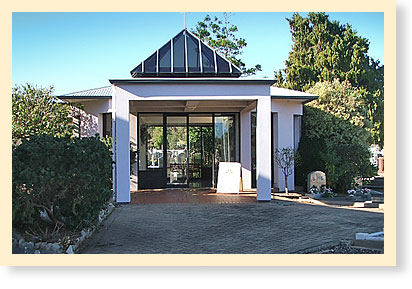 This unique building of glass and masonry, was designed by a leading locally based architect, and constructed by one of our districts quality builders.

It has been blended, both by design and landscaping, with Historic Argent Church, the oldest Methodist Church in Payneham; founded in 1948, and the present (third) building erected in 1859. The land around the Church was donated by Thomas Loader who, with his family, is buried in this cemetery.

The building of this Shrine is part of a long term plan for Payneham Cemetery, to enable its continued use by the people of Payneham and surrounding districts.

THE SHRINE
Designed for use by the people of Payneham and surrounding areas, so that the Ashes of loved ones may be near their families in our local Historic Cemetery. Under each tile of the magnificent granite floor is an individual crypt, designed to hold one, two or four boxes of Ashes, with the memorial text inscribed on the tile.

These crypts are weatherproof and secure. In the paved area around the Shrine are more choices for interment of cremated remains. Surrounding this building are further options for the placement of Cremated remains.

MEMORIAL COLUMNS
Holding two boxes of Ashes in hexagonal blocks that are faced with Scandinavian 'Blue Pearl' granite, on which to inscribe memorial text.

ROSE GARDENS
Individual bronze memorials on granite on plinths

FAMILY ESTATE GARDENS
Provision for up to six or seven individual internments in the one family garden.